hey guys, this saturday looks like it's gonna be a pumping weekend. I don't know if i'll do a friday post, i'm a bit tied up with shit at the moment.
Candy apartment should be awesome with the launch party of there new night "Disco dicso". My favourite broski Zuology is playing,
check out his myspace
here
.
he also has a new mixtape which i think is pretty pimping.
Tracklist:
1. Foremost Poets - Moonraker (Sleazy G Remix)
2. Ron Carroll - Walking Down The Street (Silverscreen Remix)
3. Nino Anthony - Speaker Freaker feat. Lizzy Curious (Lex Da Funk Remix)
4. Human Resources - Dominator (Bryan Cox Remix)
5. Jeffray & Calmani - Going Deeper (Original Underground Mix)
6. Dragonette - Get Around (Van She Tech Dub)
7. Tim Le El - Rise
8. Oh Snap! - High Top Fade (DJ Kue Remix)
9. DJ Antoine - Roof Is On Fire
10. The Cut/The Radiators - Gimme Head (The Cut & Nu Tandique Remix)
11. Daft Punk - Harder Better Faster Stronger (Coin Operated Boy Remix)
12. Rhianna - Umbrella (Vandalism Remix)
13. Busy P ft Murs - To Protect and Entertain (Crookers Remix)
14. Rye Rye - Wassup (Crookers Remix)
15. DJ Antoine - Stop! (DJ Antoine & Yoko English Big Room Remix)
16. ACDC - Thunderstruck (Crookers Remix)
17. Eric Prydz - Pjanoo (Original Mix)
download it
here
.
One Love: if you've never heard of tank, you shouldn't deserve to go out.
for those people who can't read flyers, Tommy Trash is playing at one love, he's mixed CD's for ministry of sound. So he must be good.
ha.
John Glover is also playing. Who ever that is.
nah seriously, he's pretty good too, but "Tommy Trash" in red font, and "John Glover" in black font, so tommy's better.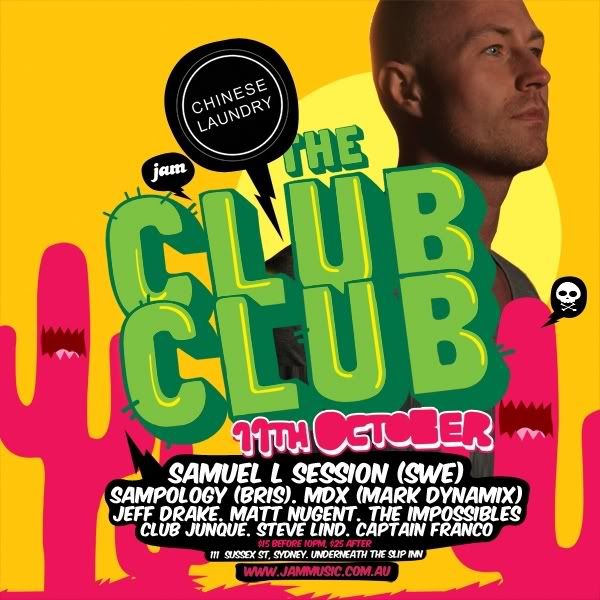 The club club is at chinese laundry on saturdays. Not particlarly a good night, but i reckon you should still look at the line up for saturday:
10:30 - The impossibles
12 - Jeff Drake
2:30 - Matt Nugent
Matt Nugent is gonna play at chinese and one love, it's gonna be one busy night for matt. lol.
Samuel L. Session is also playing check out his myspace
here
.
he looks alright, actually this does look like it's gonna be a good night.